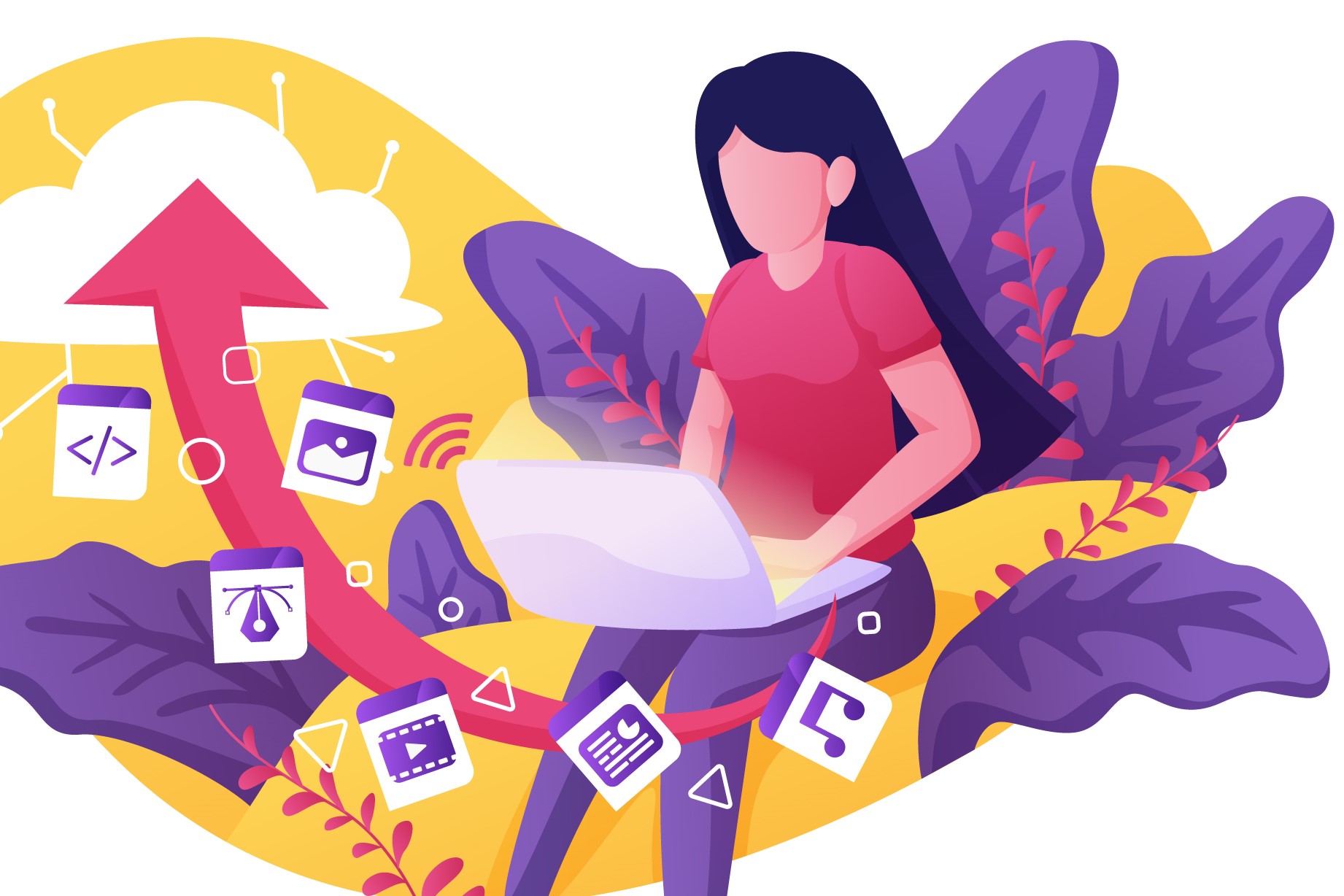 So you're making a podcast. You've recorded, edited, and made a social media account for your creation. There's just one major step left to do: find a podcast hosting provider.
There are plenty of podcast hosting playforms to consider, all with different features, positives and negatives. When choosing the right one, make sure to consider three aspects.
Tools & Features
Design
Price
With all the podcast hosting providers we're talking about today, we'll compare these three aspects of each host.
Before getting into the list, it's important to say what comes standard with any of the podcast hosting sites here. Every one of them offers distribution to the major platforms (Apple Podcasts, Spotify, Stitcher, Google Podcasts, etc.). Even free podcast hosting sites offer this kind of distribution.
These sites also offer different tiers for your needs. So less expensive subscriptions will have fewer features like limited storage or analytics, but will still offer the essentials.
All of them offer analytics in one way, shape or form, so you can see who is listening to what episodes and often times where your audience is located.
If you're not sure about any of the hosting sites, you can try them! They all offer a free trial (usually 7 to 14 days).
Ok, with that out of the way, let's get into the best podcast hosting sites!
Podbean
The industry standard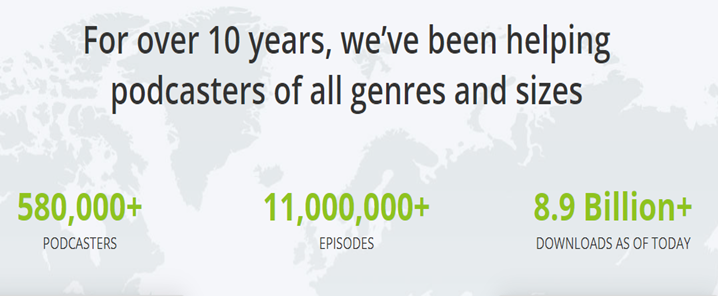 Since 2006, when listeners think about podcasts, they think about Podbean. They've hosted more than 500,000 podcasters.
As a hosting service, it offers many standard features like distribution to the major platforms (Apple Music, Google Podcasts, Spotify, etc.). They can also help with recording, analytics and monetization.
If you're just starting out, Podbean is a good choice. You can start and host your podcast for free. If you want more storage and advanced features, you're going to need to fork over some cash. Paid plans start at $9 per month. If you film your podcast, Podbean Unlimited Plus is a good choice as they can help you get your videos more views and hosted properly.
Podbean makes monetization easy for your podcast too. They can help you get advertisers through Premium, Patron, PodAds and the Podcast Advertising marketplace. These are only available if you have a paid plan.
Get started with Podbean here.
Simplecast
Easy to use & great for companies
If you're looking for an easy-to-use hosting platform with great UI/UX, Simplecast is a great choice.
Tons of major companies like Facebook, Twitter, and Tech Crunch use Simplecast to host their own podcasts.
For $15 per month, you get unlimited storage and uploads, distribution, and basic analytics to help maximize your audience. You can also collaborate with 2 team members. And Simplecast helps you create your personal show site with embedded web player. If you want more, there are two other plans (Essential and Growth) that can help once you have a bigger podcast operation.
Simplecast is perfect for you if you're making a podcast for a company.  Simplecast has separate plans which are even more detailed and provide more member seats. They help with analytics, personalized support and even private distribution.
Check out Simplecast.
Buzzsprout
Perfect for beginners
Another free hosting platform, Buzzsprout is a great option if you're just dipping your toes into podcasting. There is a catch however, they will only host your episodes for 90 days and you can only upload 2 hours each month on a free plan.
Still, the free version offers some great features other platforms don't. You can get access to analytics and have unlimited team members. If you want to host your episodes indefinitely, you'll need to pay $12 per month.
Buzzsprout offers lots of great educational material including podcasts on how to make a successful podcast.
One of Buzzsprout's biggest features is Magic Mastering which they call an Instagram filter for your audio. This means they help make your podcast sound professional. It's a great quick way to get a better sound, but for really professional sound, you should get individual attention from a company like Saw and Sine.
Dip your toes into podcasting with Buzzsprout.
Transistor
Sleek design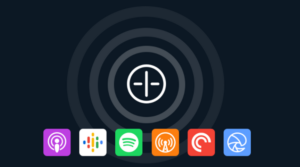 Transistor offers a lot when it comes to podcast hosting. As one of the most popular hosting sites, if you choose them, you'd be joining the likes of IBM, Cards Against Humanity, an NHL team, and the U.S. Dept of Veteran Affairs.
Probably the best feature of Transistor is its built-in podcast website. If you don't already have a site, this can be a great way to have a sleek home base for your listeners. They also help with the analytics about traffic, listeners, downloads, and subscribers. Also, it allows your team to edit and be involved with the creative process.
Transistor isn't the cheapest service. It costs £19.99 per month for a Starter level which has a limitation of only allowing 50 private podcast subscribers and 15,000 monthly downloads of your podcast. Unless your podcast is as popular as Joe Rogan's, you should be fine with 15,000 downloads per month. If your podcast has Rogan level of fame, you might want their Business level which allows for 200,000 downloads per month.
You can also transfer easily from another podcast hosting platform to Transistor. This can really help if you've been in the podcasting game for a while.
Get started with Transistor here.
Spreaker
Great for a first start
If you're just starting out in podcasting and want a platform that not only hosts but also helps you record and edit your podcast, Spreaker is a great option.
Spreaker has its own recording app (Spreaker Studio) which allows you to record and publish on the go. And the best part is that it's free.
If you want to monetize your podcast through ads, you'll need to pay at least $8 per month but that's really cheap compared to other hosting platforms.
Like many other platforms, Spreaker has a tier devoted to making company podcasts that helps tailor ads, facilitate collaboration and gives priority support.
Get podcasting with Spreaker.
Captivate
A personal touch
Captivate is a UK based podcast hosting platform with wonderful design and a helpful team. Not that it makes much of a difference, but their website is really sleek and well designed.
Captivate could be good for beginners, but I think it's best for veteran podcasters who already know what they want out of a platform. Captivate touts an easy transfer experience for already established podcasts and offers extensive features for just $17 per month.
One of their best features is Growth Labs. Through Growth Labs, you can get expert advice about how to grow (get it?) your podcast's audience. The feature helps with marketing, SEO, getting sponsors and more listeners, and provides a community of podcasters just like you.
The community aspect is often overlooked when it comes to podcasting. Often times the best way to learn is by simply asking someone or a group for help, so don't underestimate this part of Growth Labs.
If you're in the UK, you probably know a lot of the companies which chose Captivate for their podcasts: Pets at Home, Santander, and Youpreneur Summit London. Even the Church of England uses Captivate.
Get growing with Captivate.
Zencast
Simple design and easy to Use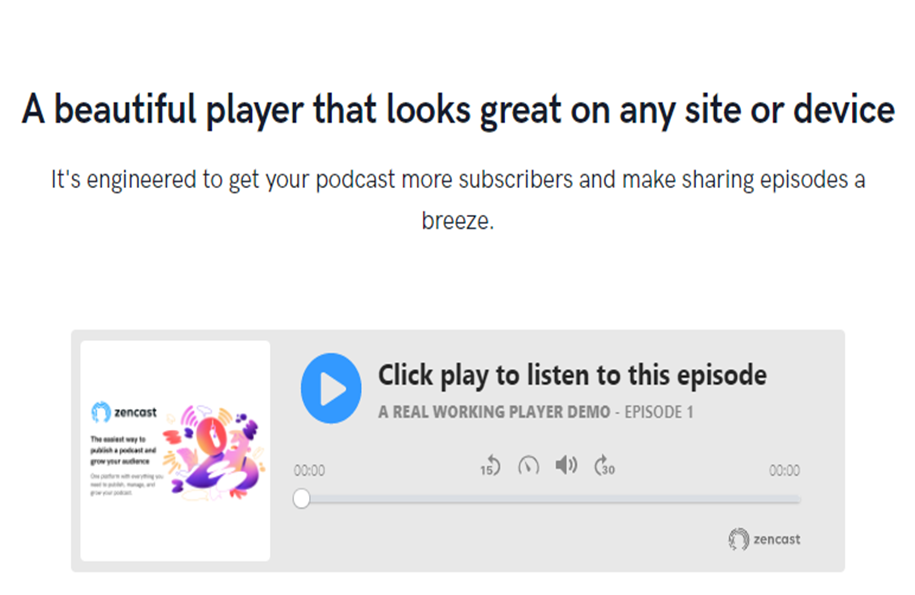 Do you ever think products are overly complicated? If you go for the simplified UI every time, Zencast is a great choice for you.
With a modest fee of $12 per month, Zencast offers lots of features for a small price. Unlimited episodes and downloads, a personalized website, and standard analytics are all included with their Hobby tier subscription.
Like many other hosts, Zencast offers an embedded player, but it's a really nice simple player. It makes it really easy to share your podcast with subscribers and social media.
Like Buzzsprout, Zencast has educational podcasts which can help you get started. Remember, making a great podcast requires a whole bunch of components, so it's important to get advice from creators who've done it all before.
Checkout Zencast.
Resonate
For an artisanal touch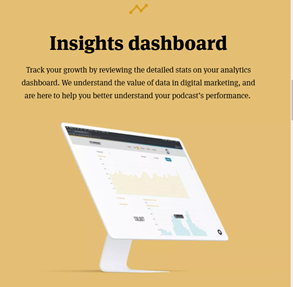 If you want to craft a sleek and artisanal podcast, Resonate could be right for you. As a podcast hosting site, Resonate gives an intriguing warm feeling.
Resonate makes creating a site for your podcast really easy because it can be done automatically through their site. After creation, you can edit how the site displays content with a few easy clicks.
Resonate offers an embedded player which is even simpler than Zencast's, letting your subscribers just focus on your creation. Every listens is recorded for your analytics, so you never miss out on that valuable listener data.
Ads are hyper customisable with Resonate. You can insert ads at any point of your show and then edit them after publishing.
As far as price is concerned, Resonate is definitely more expensive than other options. Their basic tier costs $25 per month, but that includes unlimited downloads, show users, and episodes. However, if you want a microsite and dynamic ad insertion (two of Resonate's best features) you'll have to pay $49 per month.
Check out Resonate.
Podspace
A cheaper and greener alternative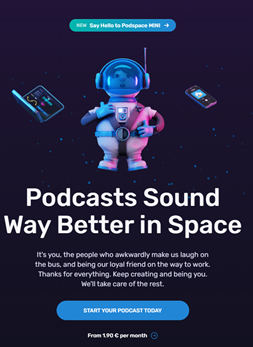 The first thing you'll notice with Podspace is its alternative style. While other podcast hosting sites can feel in the middle of acquaintance and business partner, Podspace exudes friendliness.
Before choosing Podspace, it helps if you already know a bit about podcasting. They simplify a lot of things, but I think Podspace is more of a stand back and let the creators create th type of podcast hosting site.
Economically, Podspace is probably the best option out there. While other hosting platforms have free versions, they all come with catches such as limited storage or only hosting your episodes for a few months before forcing you to change to paying account. Podspace just asks for around $2.50 per month for unlimited storage, a quick setup, and analytics.
This account is limited by one important factor: the number of downloads. With this cheapest plan, your podcast can only be downloaded 1000 times in a month. However, if you're just starting out, it's highly unlikely you'll need more than this.
Still, the other two accounts are also really cheap ($9 and $18 per month) and add a good bang for your buck with ad insertion and better analytics.
Check out Podspace.
Castos
A hip package with all the industry's standard features
If you're a bit overwhelmed by all the options out there and don't want to sift through all the different tiers and limitations of podcast hosting sites, Castos is a great home for you.
With a standard price of $19.99 per (or $190 per year), you get everything you need in terms of storage, downloads and episodes, private subscription and basic analytics. You can't go wrong with it unless you need video hosting in which case go with their growth tier ($49 per month).
Castos touts a free one-click migration from previous hosting platforms, a really helpful feature for those of us who have been already had some experience podcasting.
One really great feature is that with one account, you can host multiple podcasts. If you're working on various different projects, this is an absolute necessity.
Castos' iOS and Android apps are a nice bonus. In these stressful times where mobility is essential, being able to edit on the road makes a world of difference.
Get started with Castos.
Conclusion
While there are tons of podcast hosting sites to choose from, not everyone is right for you. You may need to reflect on what features you want or need before choosing or you might decide to make use of the free trials most companies offer.
We get that there are lots to consider, but hopefully, this article has given you a few ideas about where to start when it comes to podcast hosting sites.
If you're looking for help editing or making sure your podcast has a professional sound, get in contact with us and Saw & Sine will help you get it sorted!